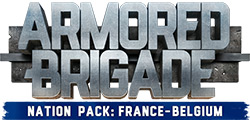 November 7, 2019
The 1.046 update is available on Steam and for the Matrix version of Armored Brigade.
Nation Pack: France - Belgium has been reviewed by Wargamer.
Today on Thursday at 6pm BST there will be an Armored Brigade stream on Twitch! If you missed the Nation Pack live stream, you can now view it on YouTube.